August was another record-setting month for the runaway train that is the New Jersey online gambling industry.
The latest revenue reports filed by the New Jersey Division of Gaming Enforcement have the state's online casinos eclipsing the $40 million for the first time ($41.2 million), and online sports betting adding another $19.2 million to the tally.
Total casino revenue (land-based and online) was $352.8 million in August, a 16.1% increase Y/Y. And to underline the point, online poker, casino, and sports revenue accounted for 17% of that total.  In the coming non-peak visitation months, one-fifth of all gambling revenue could be generated online.
In this column, BettingUSA will dive into the numbers to see what they have to say about the state's gambling industry.
Atlantic City Might Be Able to Support Nine Casinos After All
The August numbers back up our early conclusions from last month: Hard Rock Atlantic City and Ocean Casino Resort (both opened their doors in June 2018) have shaved off some customers from the city's other casino properties, but overall, the new properties have grown the market.
July 2019 saw a 1.8% uptick in land-based casino revenue, on the heels of revenue jumping 10.1% in July 2018 – Hard Rock's and Ocean's first full month in the Atlantic City market.
August 2018 saw land-based revenue increase by 20.7%. This year, revenue ticked up by 6.1%. Furthermore, only two casinos saw their revenues decline Y/Y, and both of those declines were minuscule:
Harrah's AC: -.5%
Tropicana: -1.6%
Another point of interest, the two new casinos were the biggest gainers:
Hard Rock AC: +25%
Ocean Casino: +22.7%
NJ online casino topline analysis
With nearly $15 million in online casino revenue, Golden Nugget is in a class by itself. Its nearest competitors, Borgata, and Resorts tallied $7.1 million and $7.4 million respectively.
Two other points of interest, Tropicana went above $4 million in August, and Hard Rock eclipsed the $2 million mark.
NJ online casino sites and market share
Borgata
Caesars
Golden Nugget
Hard Rock
Ocean Casino Resort
License holder: Ocean Casino Resort
Brands and sub-brands: Ocean Casino
Market share: .9%
Resorts
Tropicana
Ocean Distancing Itself From other AC Casinos
The New Jersey sports betting market is a two-horse race between FanDuel (Meadowlands) and DraftKings (Resorts). Third place belongs to Monmouth Park, with the rest of Atlantic City's casinos forming a distant trail pack.
However, as the chart below shows, one Atlantic City casino (and an unlikely one at that) is starting to separate itself: Ocean Casino.
The reason Ocean's success is surprising is it's not only a new casino, but its lackluster online casino performance to date makes its online sports betting numbers all the more impressive.
Ocean's solid retail and online sports betting numbers coupled with its rising land-based casino revenue (i.e., more visitors) make it an entity to watch going forward.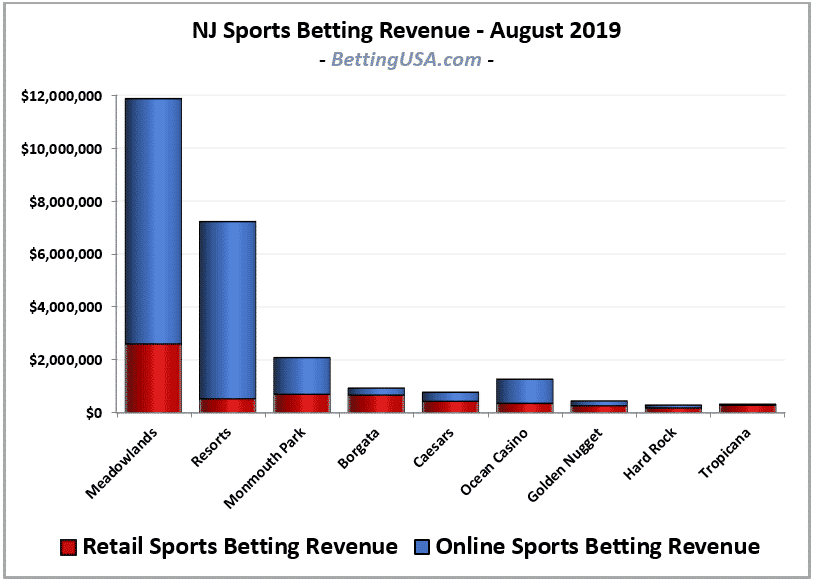 Beating the Dead Horse That Is Cross-Selling
The growth New Jersey's nearly six years old online casino industry has seen since the onset of online sports betting is hard to ignore.
As the chart below shows, in the 12 months leading up to online sports betting the industry was growing at a steady pace – between 11%-26%. In the 12 months since online sports betting's launch growth has skyrocketed, including six consecutive months of growth of 50% or more.
Online Sports Betting Begins