Naysayers have been waiting for the bottom to fall out of the Atlantic City casino market since the openings of Hard Rock Atlantic City and Ocean Casino Resort in the summer of 2018.
But judging by the Q3 numbers released by the New Jersey Division of Gaming Enforcement, they won't be able to yell, 'I told you so' anytime soon.
Even in the heavily saturated market, the Q3 numbers point to an industry in ascent, with each operator holding its own.
Revenue Rises, Profits Decline in Q3 2019
With the addition of online sports betting and its positive impact on New Jersey online casino numbers, revenue numbers have been rising across the industry. As such, it's difficult to paint an accurate portrayal when it comes to the impact the two new casinos have had on the market.
Nor does revenue tell the entire story.
A second metric, gross operating profit, provides more insight into how the existing casinos have adjusted to the new competition. And so far so good, considering every casino in the market is turning a profit.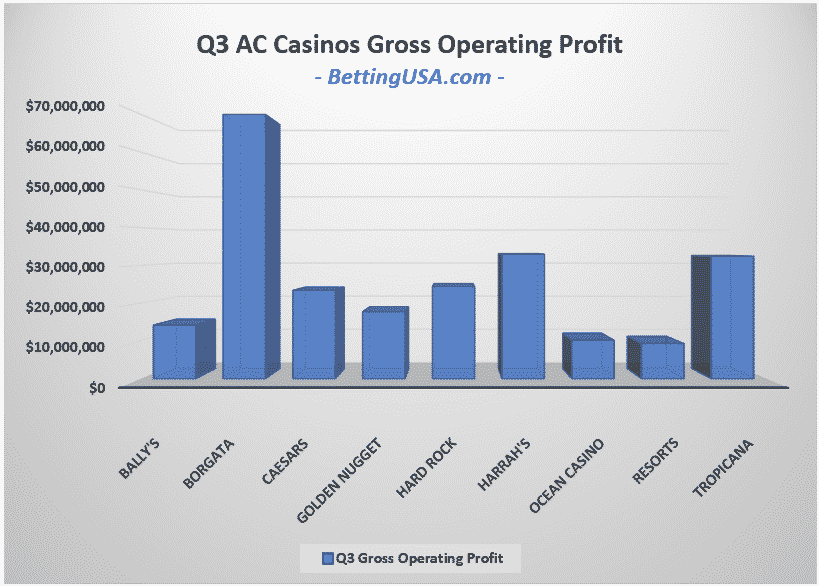 A Look At Year-Over-Year Operating Profits
That's not to say the new competition from Hard Rock and Ocean Casino hasn't taken its toll on the existing casino operators.
The Q1 and Q2 quarterly reports show declining operating profits at the city's seven existing casino properties. However, in Q3, the Atlantic City casino market appears to have righted its course.
As the chart below shows, only the three Caesars' properties (Bally's, Caesars, and Harrah's) failed to post year-over-year profit increases.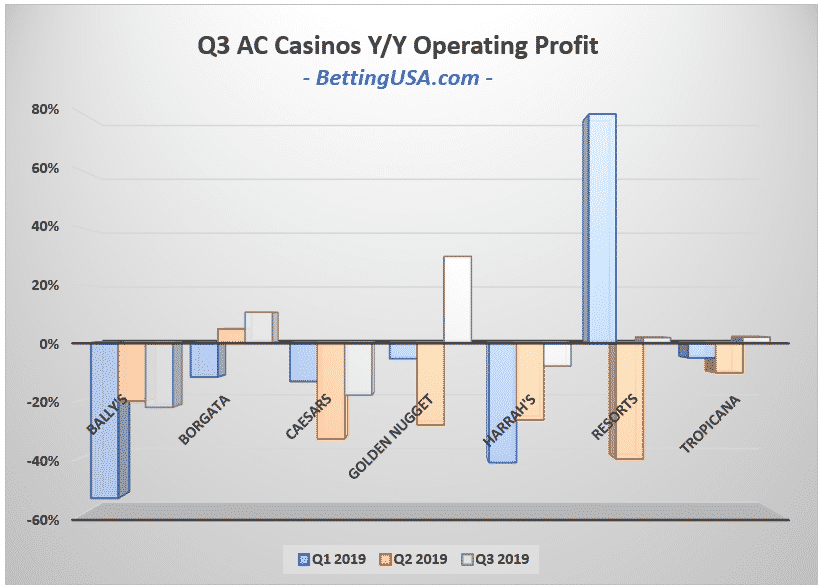 What does that tell us?
There is no shortage of possibilities:
Before the two new casinos opened, Caesars AC and Bally's were already two of the weaker links in the Atlantic City casino chain.
Caesars' casinos could be bearing the brunt of the two new properties due to proximity and/or overlap in customer bases.
Its mega-merger with Eldorado is affecting its operations in Atlantic City.
Or perhaps it's a bit of all these things.
Ocean Casino and Hard Rock Post Strong Numbers
The two new casinos saw profits soar compared to Q3 2018, their first full quarter in the AC casino market.
Hard Rock nearly tripled its gross operating profit Y/Y (from $8.3 million to $24.4 million), and only Borgata, Tropicana, and Harrah's posted higher gross operating profits than Hard Rock.
Ocean Casino posted a meager profit of $581,000 in Q3 2018. That number ballooned by 1,660% in Q3 2019, as gross operating profit climbed to eight-figures, $10.2 million.
Hotel Occupancy and Room Rates
Far more surprising than the strong profit figures is the hotel occupancy and room rate statistics.
Hard Rock and Ocean Casino added thousands of rooms to the market (around 3,400 to put a number on it), but that's barely made a dent in occupancy rates.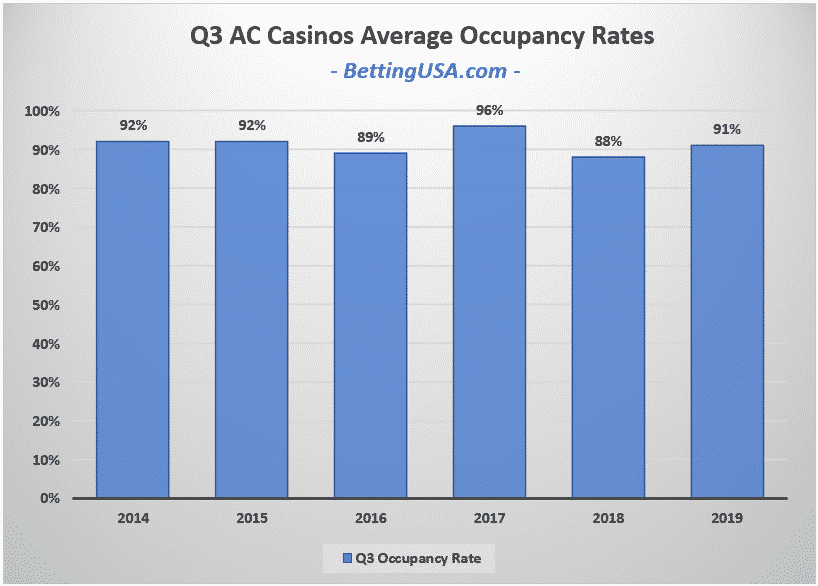 Even more surprising, room rates have risen substantially, by about 50%, since the two new casinos joined the market.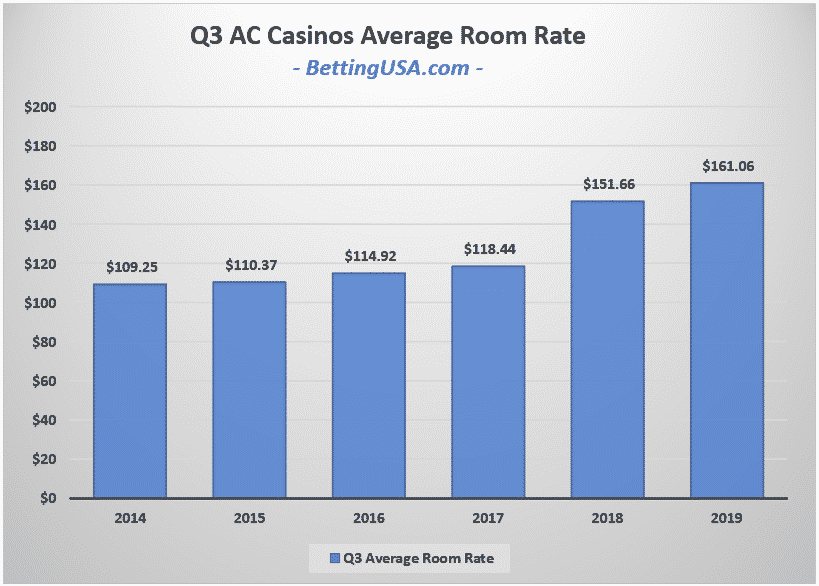 Bottom Line
The profit margins and the occupancy and room rate numbers indicate that Atlantic City can support nine casinos after all.