Sports Betting And Online Gambling Paying Off In Big Ways For Pennsylvania
Online gambling and sports betting had a positive impact on the Pennsylvania gambling industry in August. The addition of the new verticals played a big part in the state's 7.7% year-over-year increase in total gambling revenue.
The final tally for the month was more than $295 million in revenue.
Gaming Expansion Package Continues To Pay Dividends
From licensing fees to mini-casino auctions, Pennsylvania has been cashing in on the gambling expansion package it passed some two years ago. Now that sports betting and online gambling are up and running, the Keystone State is getting a taste of what the ongoing revenue impact will be.
And no, the online components didn't take away from land-based revenue. Land-based revenue was up 2.7% for the month, once again demonstrating the additive effect online gambling has.
Inside the Numbers: Sports Betting
According to the Pennsylvania Gaming Control Board's sports betting filings, the state's 10-month old sports betting industry fared even better. Handle at Pennsylvania sportsbooks was $109 million for the month, resulting in $9.9 million of revenue.
The leader in the clubhouse is a familiar name in the nascent US sports betting industry: FanDuel.
FanDuel's (operating under the Valley Forge license) revenue tally was $3.1 million in August thanks to an industry-best $37.8 million in handle.
"The FanDuel Sportsbook is the clear market leader for online sports betting in Pennsylvania with nearly half of the state's handle and revenue, an incredible achievement in only six weeks of operation," FanDuel said in a statement following the release of the revenue numbers. "Having expanded our leadership position across New Jersey and now Pennsylvania, we will continue to bring our top mobile betting platform to the expanding US market."
FanDuel's closest competitor is SugarHouse Casino. SugarHouse generated $2.5 million of revenue from $30.4 million in handle in August.
Third place belongs to SugarHouse's sister property in Pittsburgh, Rivers Casino. Rivers revenue and handle tallies were $1.7 million and $21.8 million respectively.
Online Sports Betting Fever Has Gripped PA
And as the charts below clearly show, the boost is due to the maturation of the state's online sports betting industry.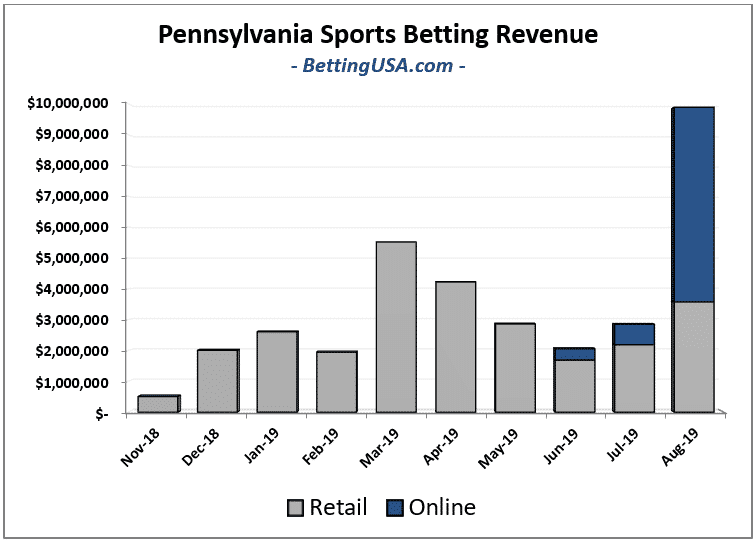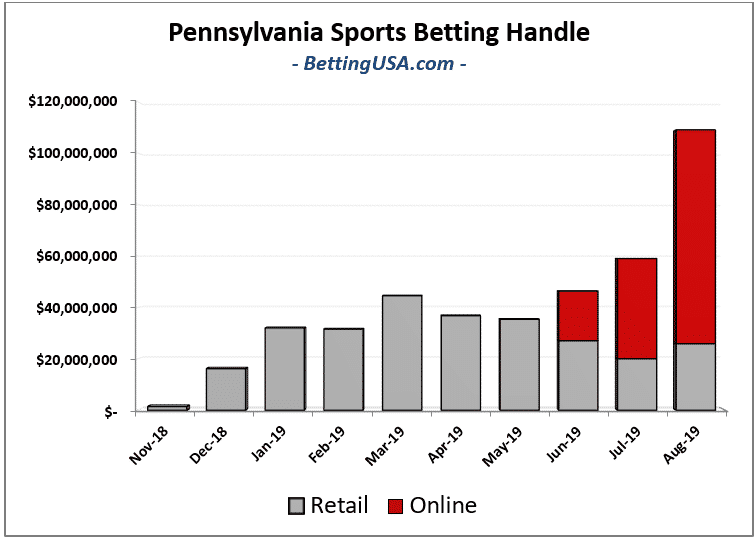 Just three months after the first online sportsbooks sprang into being, online is accounting for 75% of all wagers. If New Jersey is any indication, that number will continue to increase.
Inside the Numbers: Online Gambling
According to the PGCB's online casino filings, bettors wagered roughly $112 million at the state's three online casinos in August – Pennsylvania's first full month of online casino gambling. That resulted in revenue of $3.4 million.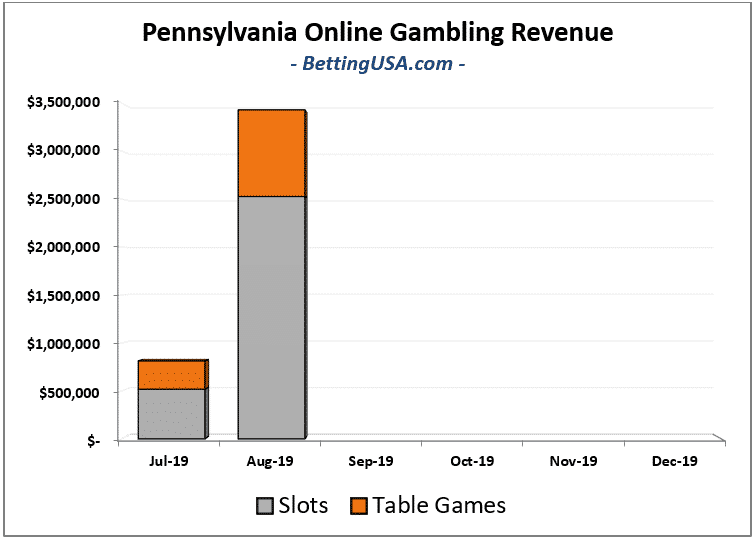 $3.4 million is a drop in the bucket compared to the $41.1 million New Jersey generated in August. That said, New Jersey's online casino industry is nearly six years old.
Pennsylvania's August numbers line up quite nicely with New Jersey's first full month of online casino:
Pennsylvania online casino revenue, August 2019: $3.4 million
New Jersey online casino revenue, December 2013: $4.5 million
The comps are even more favorable for Pennsylvania when the number of operators is factored in:
Pennsylvania online casino operators, August 2019: 3
New Jersey online casino operators, December 2013: 6