The Pennsylvania online poker and online casino industry generated $55.8 million in revenue during May, according to the most recent Pennsylvania Gaming Control Board revenue report.
That's the second consecutive month of accelerated growth for the fledgling market, and an impressive tally for an industry that has been around for less than one year. By comparison, it took New Jersey more than six years to crack the $55 million mark.
Of course, there are some extenuating circumstances (which will get discussed below) at play.
Here's a breakdown of Pennsylvania online gambling revenue in May, per the Pennsylvania Gaming Control Board:
Slots – $38,822,857
Table games – $12,419,514
Poker – $4,596,418
And here's how the industry has grown since launching in July 2019: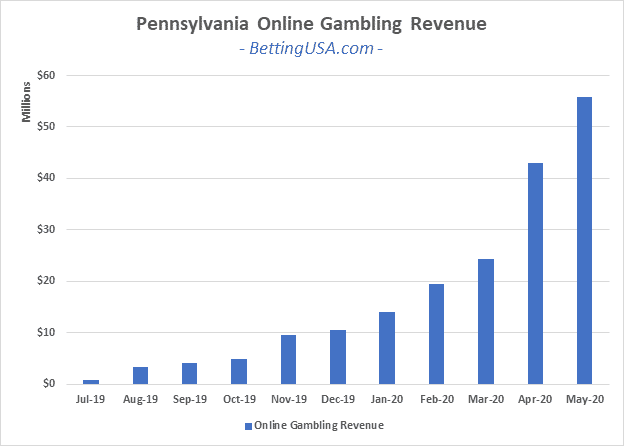 Pennsylvania Chasing Down New Jersey
As noted above, Pennsylvania's online gambling industry is growing at a much faster rate than New Jersey at this point in its life. That said, it's important to note that online gambling growth in Pennsylvania (as it has in New Jersey) has exploded since the casino shutdowns due to COVID-19.
As Gambling Compliance's Chris Sieroty pointed out on Twitter, both states' online casino markets are now in the Top 5 worldwide:
That's not overly surprising for New Jersey, which was on its way to Top 5 status before the COVID-19 shutdowns. It is remarkable for the nascent Pennsylvania market.
The idea that Pennsylvania and its significant population advantage might overtake New Jersey in terms of online casino revenue wasn't an outlier opinion. That said, Pennsylvania chasing down New Jersey this early in the game is quite surprising.
Even with Pennsylvania's population advantage, the two markets have significant structural differences that were expected to be advantage, New Jersey.
Pennsylvania:
Saddled its operators with burdensome licensing fees and tax rates that were expected to be passed on to players.
Imposed strange restrictions from branding requirements to on-property mobile wagering prohibitions.
Possesses a thriving online lottery that includes instant win games that resemble online slot machines.
The tax rate is the most interesting part of this equation. Both states have similar tax rates for poker and table games. Because Pennsylvania taxes online slots at 54% compared to 15% in New Jersey, Pennsylvania, can generate more tax revenue from less online gambling revenue.
For example, New Jersey generated $85.9 million in May, compared to Pennsylvania's $55.8 million. However, New Jersey collected $12.9 million in tax revenue, while Pennsylvania's tax haul was nearly double that amount, $24 million.
Online Casino Is the Only Game in Town
There's one caveat to Pennsylvania catching up to and perhaps overtaking New Jersey: The shutdown.
Right now, Pennsylvania's and New Jersey's online gambling industries are the only game in town, but what happens when casinos reopen? Will the two markets revert to their pre-shutdown levels, or will players shift some or all their play online?
In the same vein, will the structural issues in Pennsylvania send players back to land-based casinos faster and in higher numbers than in New Jersey?
These are questions that are likely many months from being answered.