PointsBet Pick 6 is a nationwide, free-to-play game with $25,000 on offer every weekend. All you need to do is pick the winners and margins of victory for six NFL or NCAA football games each week for a chance to win $25,000. Today, we explain how it works and where to play.
The game is hosted by PointsBet US, which is a unique type of sportsbook with operations in New Jersey and Iowa. The company plans to expand further across the US over time, but customers across the country can get a taste of the action today for free at PointsBetPick6.com.
PointsBet Pick 6 is open to customers 21 or older and is legal even in states that have not yet legalized sports betting due it to being free to enter (except New York and Florida).
How to Play PointsBet Pick 6
PointsBet Pick 6 operates on a simple premise: pick the winners and margins of victory of six NFL or NCAA football games each week for a chance to win up to $25,000.
We'll start with the cliffs notes version now and then walk through it step by step below:
Visit PointsBetPick6.com to sign up for an account
Pick the winners of six NFL or NCAA games
Choose the margin of victory for each game
Get all your picks right and win $25,000 (prize split equally if there are multiple first place finishers)
Play again next week
And here is the step-by-step guide:
1. Visit PointsBetPick6.com and sign up for a free account
2. Select whether you want to pick NCAA or NFL games this week
You may only choose one or the other each week. If you change your mind prior to that week's entry deadline for each contest, you may still log in, view your entry and clear your picks to change from NFL to NCAA or vice versa.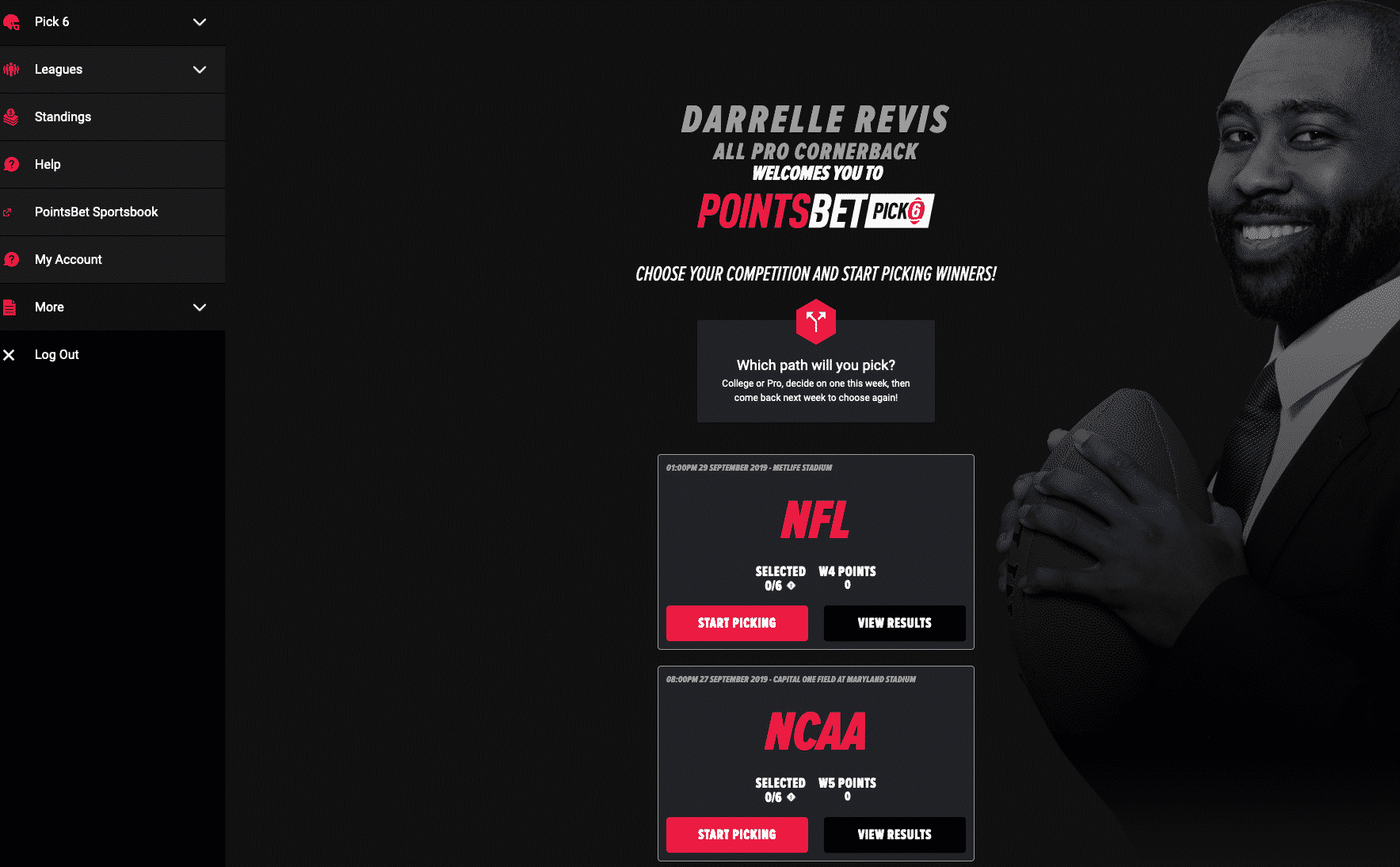 3. Pick the winners of six games and use the buttons below each matchup to choose a margin of victory.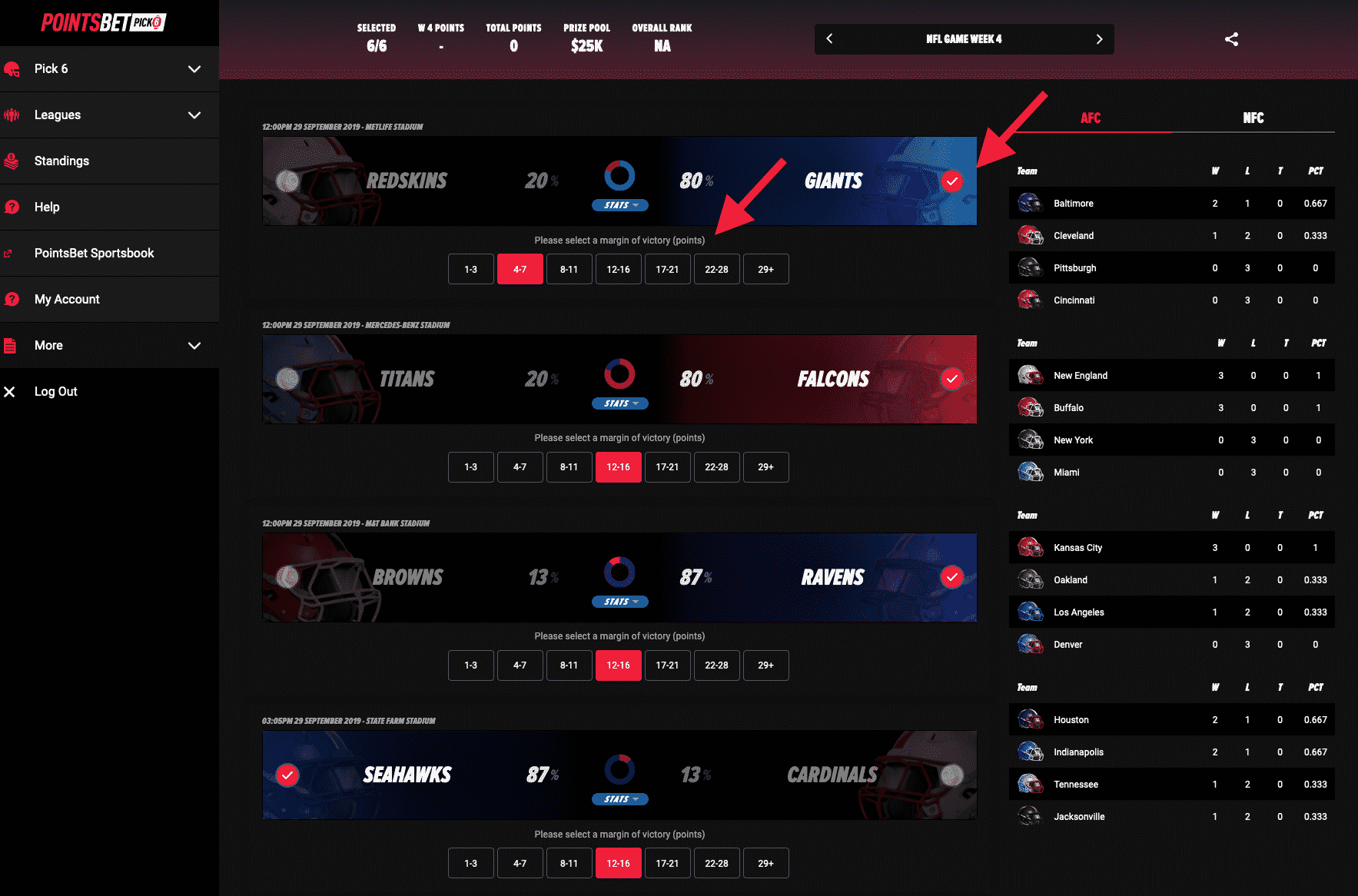 4. Hit "Confirm Your Picks" and watch football
That's all you need to do. PointsBet will monitor your progress as the week's games play out and maintain an active leaderboard showing where you stand. In the meantime, you can log in to the PointsBet Pick 6 website any time to check the standings and edit your picks until each game's kickoff.
The person who makes the most correct picks each week wins $25,000. If multiple people tie for the most correct picks, the prize will be split equally among the winners.
Optional: Unlock stats and invite your friends
You can unlock additional stats and head-to-head insights by inviting your friends to join you at PointsBet Pick 6. Doing so will give you access to additional insight for each matchup to improve your picks each week.
There are two ways to refer a friend.
First, you can visit the picks screen where you make your predictions. Under each matchup is a little "stats" button you can tap to be prompted to refer a friend. You can send your unique referral code to friends (they'll be asked for it when they sign up) or input their e-mail addresses to send a template invitation e-mail.
After you have successfully referred a friend, you can tap the stats button any time for extra information on that matchup.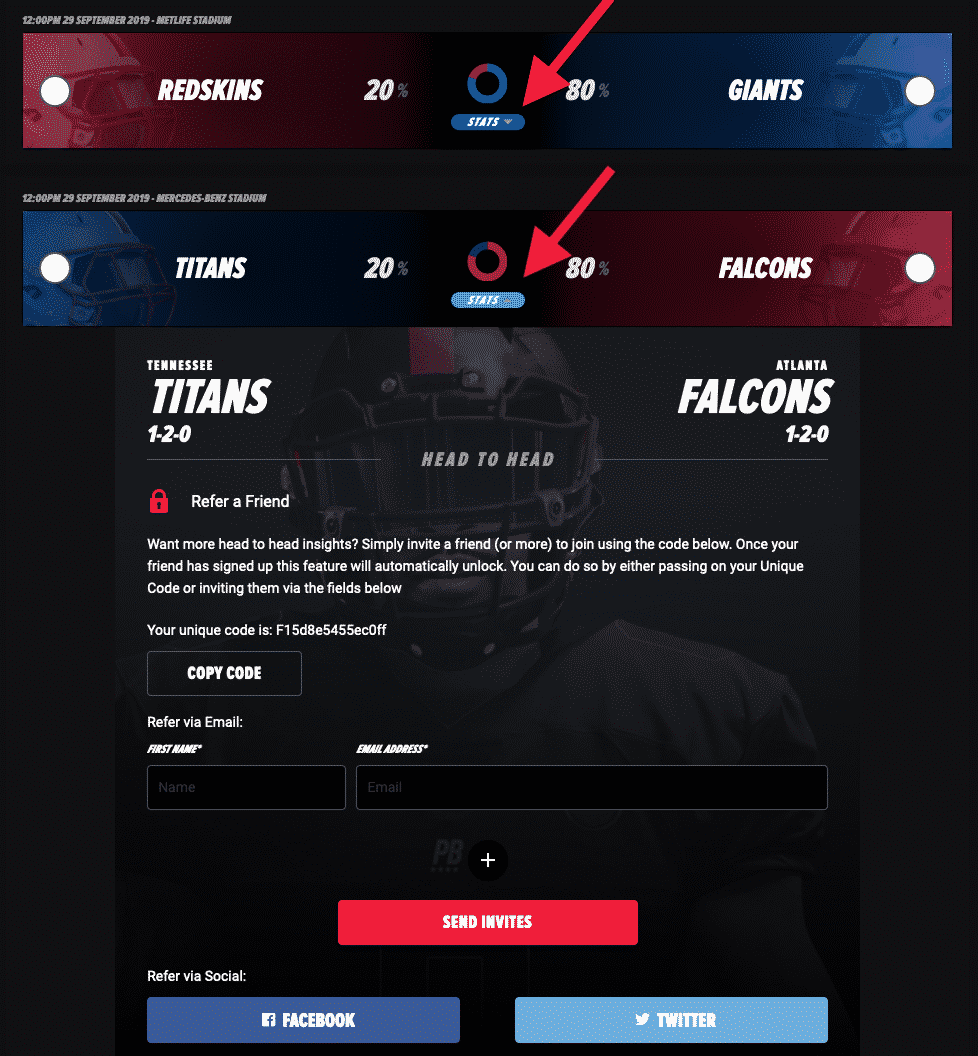 Optional: Create your own league and invite your friends

The other way to refer friends is to create your own private or public league.
Pick 6 leagues do not cost anything or offer any prizes, but do allow you and your friends to compete on your own to see who has the best picks each week. Doing so will not impact your ability to win prizes in the main contest each week.
After you create a league, you can go to the league settings to send invitations to your friends.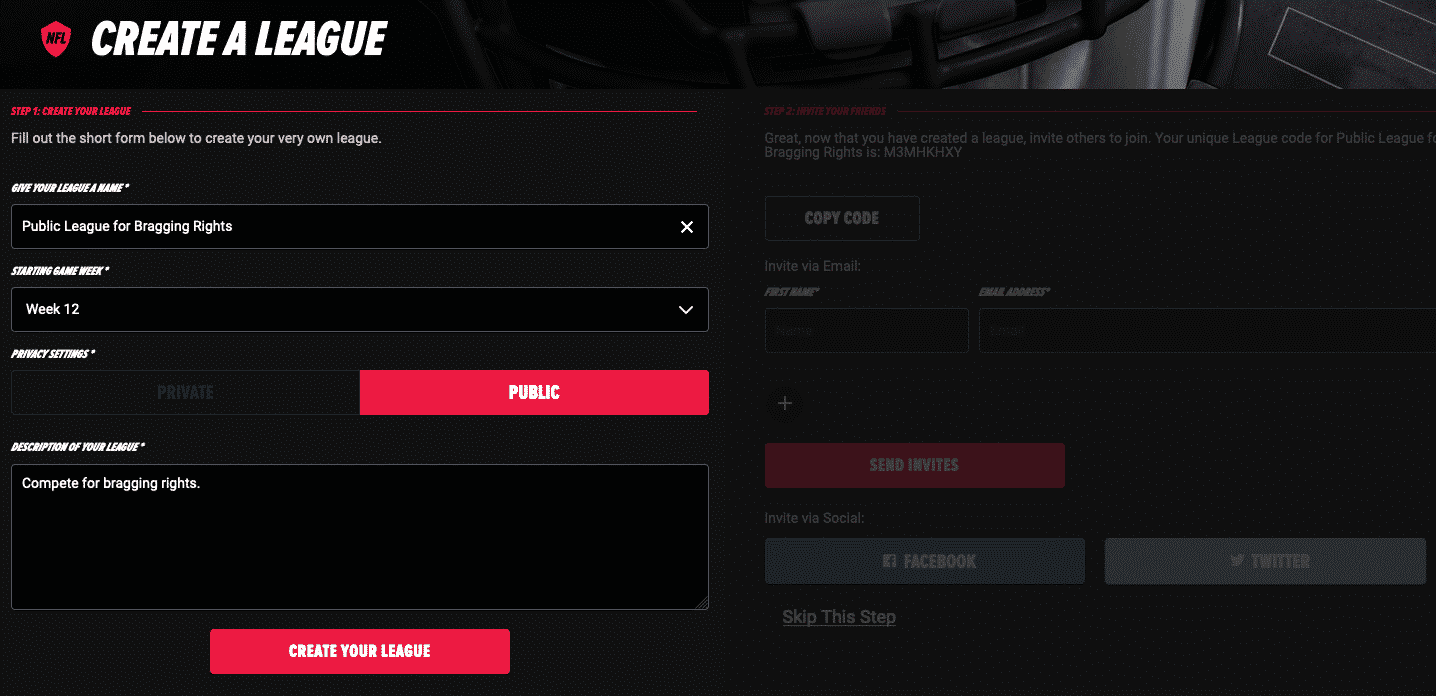 PointsBet Pick 6 Questions and Answers
PointsBet Pick 6 is as simple as it sounds, but here are the answers to some additional questions players may have.
Does it cost anything to play?
No. PointsBet Pick 6 is absolutely free to play. That is also why it's legal in every state except New York and Florida.
The PointsBet people say they have launched this game because they want to spread brand awareness ahead of the sportsbook opening in additional states and to familiarize future customers with the basics of sports betting. It's a win-win for everyone.
This is exactly the same strategy FOX Bet employs with its own pick six game, FOX Sports Super 6.
Who can play?
You need to be 21 or older and located anywhere in the United States except New York or Florida to play.
Can I change my picks after confirming?
Yes. You can change each of your picks prior to that game's kickoff.
Can I play in NFL and NCAA contests at the same time?
No. You will need to pick either the NFL or NCAA each week. You can alternate between both leagues from one week to the next but can only play in one or the other each week.
However, you can change your mind if the deadline to enter each contest has not yet passed by logging in, visiting your picks page and selecting "clear picks." This will allow you to clear your NFL picks and play in the NCAA contest, for example.
How do I win?
You can only win by accurately predicting the winner of each game and the margin of victory. If nobody gets them all correct, no prize will be awarded that week. If multiple people get every pick right, they will split the prize equally.